The story of Ana Dyla
Ana Dyla shares inspiration and honest lifestyle belongings for conscious and joyful living. We are a lifestyle brand that focuses on active work for an honest and better world through fair products of a transparent and sustainable source. Ana Dyla is here for every woman, no matter her age or appearance. Flow with a bit of elegance, edgy raw touch and pure.
Woman inspire us. Independent. Dedicated. Pure. Unique. Beautiful woman who know how to get the best out of everything. Working to build their empire and fulfill their dreams. Strength combined with weakness, power with challenges and struggles but never give up. Yes we do need to take time for ourselves. Step back, look up and make the right choices. Don't let the world rule you, rule your world. All in the pureness of being you, Ana Dyla jewelry will show who you are and reminds you of your power and strength in life.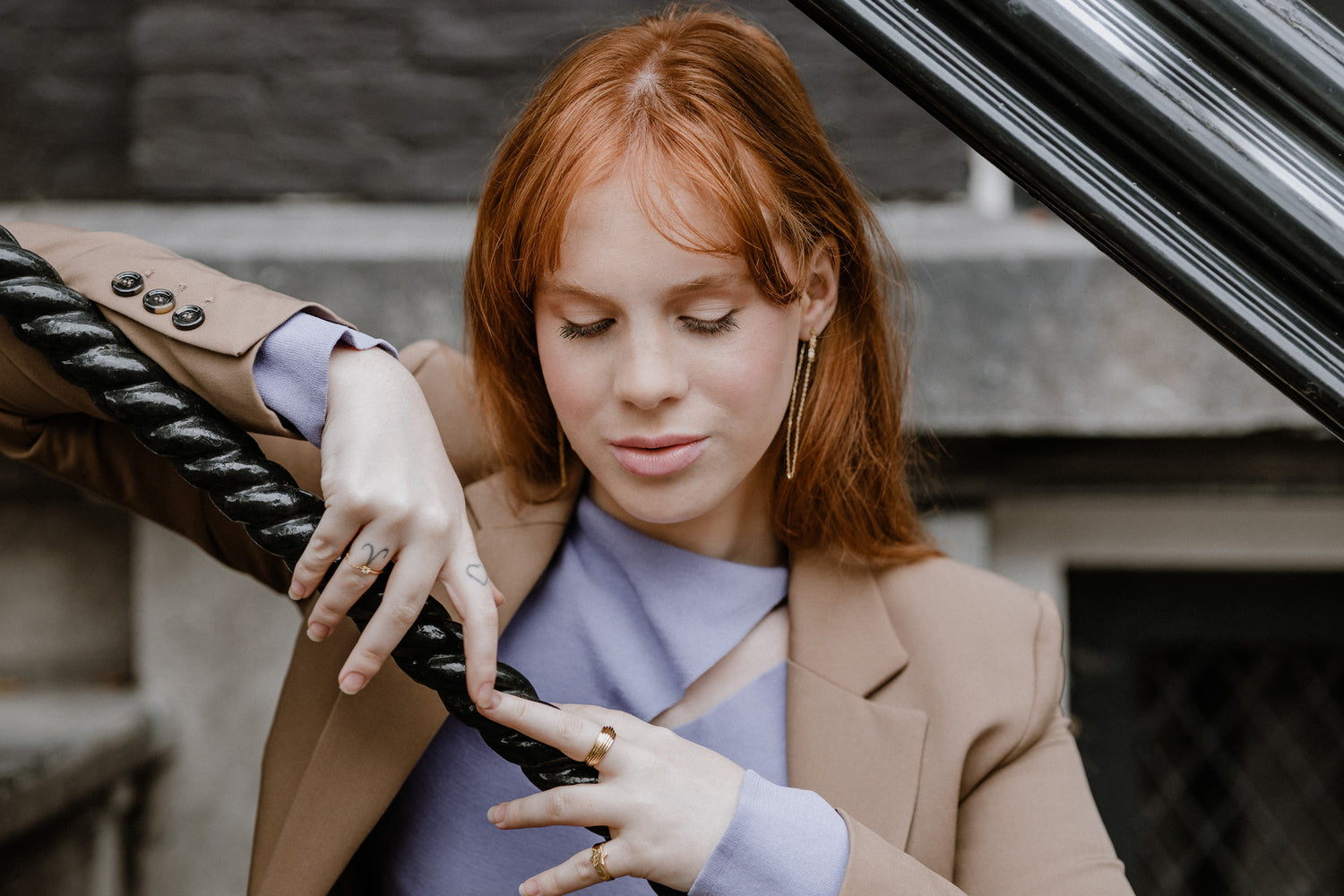 Vision
The essence of Ana Dyla isn't to promote 'wannahaves'. Rather, the point is to shine with the help of some items and let your personality speak. Ana Dyla is a unique collection of handcrafted jewelry inspired by Ottoman style & modern Istanbul crafted by the best silversmiths. How I found the best silversmiths? Endless strumbling down the streets in Turkey. Genesis of Ana Dyla is utilizing the art of nature (gem stones), further refined by local Turkish gem cutters and artisans. They create one of a kind piece in which the old Ottoman traditions are harmoniously blended with modern design esthetics. Exclusive jewelry made with craft and love guarantees you a complete unique, chic look that will decorate your life. Pureness for all woman.
Sustainability
We design with nature in mind; we hope that this allows all of our items reflect a "found" quality, a raw yet elegant aesthetic. Part of our process includes allowing the gemstones to dictate the flow of our lightweight sculptural settings. Our jewelry is crafted in a completely unique style. We first wrap the gemstones in wire frames for structure; these frames are encased in free-form, lightweight plastic sculptural settings, which we then gild with recycled 925 sterling pure silver, and finalize with a sealing layer of precious 18kt gold.
Quality

Ana Dyla jewellery support a vision of quality over quantity. We provide personalized craftsmanship for all of our work; each item is hand-sculpted-to-order, ensuring custom and precise attention to your jewelry. We don't cut any corners: our carefully curated sustainably-sourced luxury materials provide the highest quality sculptural accessories for our community.

Fair

We believe that WE (yes you and us) can change the world we live in. No more mass consumption and absorbing the 'musthaves' but items that you truly love. We can't make a global impact, you can't, but together we can. We can be conscious about products made with love and respect for the environment & the people who make them. So one jewel at the time, step by step we will create a world full with love for human & craft.

Affordability

We aim to create affordable luxury for a growing community of conscious humans who desire items that reflect their own values, items that are as unique as they themselves are: as natural, as beautiful, as inspired. We maintain an affordable price range for an aesthetic that is typically reserved for once-in-a-lifetime purchases.

Design

Our designs with nature in mind; the beauty of nature reflects in the stones and this is our golden quality, a rough but elegant aesthetic. Part of our process means that the gems determine what the ultimate jewel will be. Our jewellery is made in a completely unique style.
Goals

Our goals is to create 100 fair jobs worldwide & to be 200% conscious in the future. That we can spread the love for real craft work and appreciate the glory of having choices and that we can choose for conscious. Hopefully we can inspire you to get a bit more conscious day by day.

The United Nations reached out 17 sustainable goals and see how we transformate the world with them.